The problem with Stig
As far as I am able, here's my case for why Stig Abell is a media problem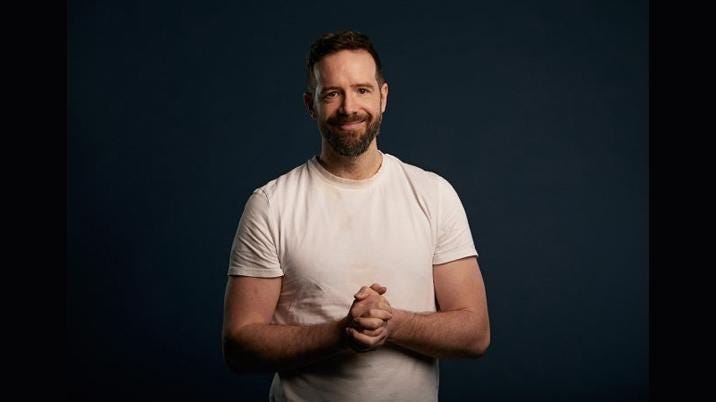 Stephen 'Stig' Paul Abell, known universally as Stig Abell, is a media success by any metric. His rise has been meteoric and unprecedented; from press regulator to boss and star turn at Times Radio. There are only a handful of steps between.
Not for Stig the iterative climb up the ladders and occasional snake of an ordinary media career. Instead, like a Channel Swimmer larded up and smoothly moving through the water, he has made his way in print and broadcast, elevated to editor roles with remarkable speed. Part of this is talent — Abell speaks well off-the-cuff — part is ruthless ambition — he wrote a killer memo to snatch the editor's seat at Times Literary Supplement before any rivals were out of the blocks — and part is being willing to do whatever it takes to make his way — he shifted from press regulator to The Sun's protector with alacrity.
In September 2001, Stig Abell joined the now-defunct press regulator, the Press Complaints Commission, as a complaints officer, writing up judgements against media organisations. He was a media gamekeeper who pinballed around the place, serving as a press officer, assistant director, deputy director and finally Director, just over 9 years later. After a bravura performance at the Leveson Inquiry, for which he submitted the longest written evidence (over 100,000 words), he left the PCC and washed up at The Sun as managing editor.
Abell spent just under 3 years at The Sun, most of them dealing with ongoing legal cases against many of the paper's reporters in the phone-hacking trials, and joined the Sunday editing rota — putting together the Monday edition. This also meant he was involved in the paper publishing Katie Hopkins' notorious 'migrants are cockroaches' column. He has said that he will still defend The Sun and has sometimes framed the continued social media barrage he receives about the Hopkins column as trolling.
In March 2014, while still Managing Editor of the Sun, Abell started as a co-presenter on an LBC radio show with Sky News' Kay Burley — at that time also an employee of News UK. In 2015, he stepped up to his own show in the 8 am to 10 am slot on Sundays, later moving to the more plum Sunday time slot of 3 pm to 6 pm.
In May 2016, after a years-long association with The Times Literary Supplement, Abell became its editor. He held the post until June 2020, when he relinquished the position to become co-presenter of Times Radio's breakfast show. He was replaced by Martin Ivens, who had been editor of The Sunday Times, another good soldier being rewarded for his work at News UK with the comfort of the TLS. Abell was also the station's launch director, giving himself the plum morning job (though the hours are appalling) and is Executive Director of Wireless, the News UK company that runs the station as well as Talk Radio and the Talk Sport network.
Alongside his News UK career, and creation of Times Radio, Abell has been one of the regular presenters on BBC Radio Four's Front Row. As reported by my erstwhile colleague Tim Walker, there is significant concern within the BBC about Abell remaining a fixture on Front Row even as Times Radio attempts to siphon listeners and presenters from Radio 4 and 5Live.
Paul Lewis, the presenter of Radio 4's Money Box, was one of those who publicly shared his concern. John Pienaar, another Times Radio presenter, quit immediately as a BBC political editor when his move to Murdoch-land was announced. An unnamed source told Walker:
"Abell got into journalism not via the traditional route of coming up through the regions, but instead by doing a spell at the unlamented regulator the Press Complaints Commission."
Like me, Abell went to a grammar school. Like me, he studied at Cambridge. I went to the newer college of Homerton, while he was at the august and centrally located Emmanuel. He graduated four years before I landed in the city of bikes and bad night clubs. Profiles of him often mention he got a 'double first' — meaning securing 1:1 in Part I of the Tripos (exams at the end of your first or second year, depending on the course) and Part II.
However, a first-class degree is awarded based on your performance in Part II of the Tripos. A first in Part I gets you awards while you're at Cambridge, sometimes cash depending on the college, and preferential treatment too, but a 'double first' doesn't exist. I achieved a first in Part I; falling short by a couple of marks in Part II and left with a 2:1. As the first person in my family to go to any university, I was delighted.
Why does this matter? Because Abell is often connected to things that are nearly true. He has spent his career being truth adjacent and amenable to interesting sounding facts that are almost true. His Times piece heralding the launch of Times Radio was a good example of this tendency.
The lede, which connected the rise of radio to a previous pandemic to provide a nice historical echo for Times Radio's arrival during the current crisis, was… untrue. It's a gross over-simplification of the development of radio, with the commercialisation of the medium coming only in the 1920s, years after Spanish Flu ravaged the world. It doesn't matter per se, but it represents the way Abell can often sound clever, but actually be getting things slightly off. He deflects this with a good line in self-deprecation and constant protests that he's 'always wrong,' while having a robust ego.
While he tends to distance himself from the real dirty work of The Sun now he is a more liberally credentialled Times Radio presenter and has 'cleansed' his reputation with the undoubtedly successful Times Literary Supplement stint, he got his hands plenty dirty. In an interview with Roy Greenslade in 2016, just after he joined the TLS, he boasted about a 2015 story featuring a 1933 film clip of Edward VIII teaching Princess Margaret and the present Queen how to make the Nazi 'Sieg heil' salute:
I remember walking with David [Dinsmore, the then Sun editor] to Buckingham Palace to show them the video two days before publication. Then we published it across eight pages, did it beautifully, proper popular history and popular tabloid journalism. We were so proud of it and got nothing for it.
Abell seized the TLS with a two-page memo and the patronage of ex-Sun editor Rebekah Brooks. She sold him to News Corp boss Robert Thompson who in turn got the nod from the big boss Rupert Murdoch. Abell, while he continues as a Front Row presenter, really is Murdoch's Man at the BBC.
In 2018, Abell was lauded in The New York Times with this section early in the profile of his TLS editorship:
"It was definitely the talk of the town for a while," said Mitzi Angel, the publisher of London's Faber & Faber. (In September, she will become the publisher of the American publishing house Farrar, Straus & Giroux.) "The idea that someone would go from a Red Top, as we call them, directly to the TLS seemed sort of nuts."
Only, there was nothing nuts about it. The TLS was awarded to Abell — without competition or an open interview process — because he had been a good company man and could be trusted not to do anything that would risk the title's august reputation while being admittedly a gifted manager and strategist who upped the circulation and shook of some of the paper's tweediness.
It felt as though the New York Times reporter crushed on Abell a little bit. He certainly has charisma and comes over well on his radio show. In the NYT piece, he is described like this:
It is hard to imagine Abell, 38, in tweeds. On a recent overcast morning, he greeted a visitor to the TLS offices — they are in The News Building, the gleaming London headquarters of Rupert Murdoch's media empire — wearing what is essentially his uniform: a gray T-shirt, jeans, running sneakers and a scruffily unshaven mien.

He had an endearing bit of bed-head (Abell arrives at the office very early, to work on his own writing before his staff arrives), but his brown eyes were bright.
Those clothes are part of the problem with Stig. Like another disruptive figure in British political and media life — Dominic Cummings — he does not try to dress with any sense of professionalism ever. Brand Stig requires that scruffiness to go with the nickname's allusion to the rubbish tip dwelling children's book character Stig of the Dump. That we might use the full title — Stig of the Dump — to refer to his grubby time at The Sun is by-the-by. That his co-host on Times Radio breakfast Aasmah Mir is glamorously dressed in black in the picture that promotes the show while Abell wears a grey t-shirt, jeans, and a scruff of stubble is as perfect illustration of media sexism as you might encounter.
Abell's entire career is a melange of luck, ruthlessness, weaponised ignorance, real cleverness, pseudo-cleverness, and willingness to flex and reshape himself to do what the industry and, more specifically, Mr Murdoch requires. For some — the gold watch brigade — being a 'company man' is something to admire. To me, it's a moral failing up there with badger baiting.
As well as his many other commitments, Abell has been able to write and publish two books. One of them is very instructive — How Britain Really Works. That's a very apposite title for a work by a man who has seen first hand how patronage and media chumminess can propel men into jobs for which they have not had to demonstrate ability. Several sources within the BBC tell me that Abell never faced a proper audition for Front Row and that, in fact, he was added to the roster without programme-makers consulting two more established female presenters. The Guardian's review of How Britain Really Works notes:
It doesn't dig deep on any topic, dispatching two centuries of British political history in not much more than half a chapter, and current affairs junkies won't find much in it that they genuinely didn't know (or perhaps more accurately, didn't think they knew). And since it's written from the carefully even-handed viewpoint of a classic centrist dad, it's not one for the radical in your life, either.
That could be a summary of Stig Abell's career. His surname is nominatively deterministic — he is able and willing to use that ability at every turn — but he is also comfortable with being knowingly ignorant and performative inquisitive to avoid ever seeming controversial, allowing him to ride that centrist position hard. Just don't mention the cockroach thing, okay?