The Burning Bridges letters: Dylan Jones makes my teeth ache
There go the GQ commissions!
"GQ's a huge brand, it's a global brand, our footprint is enormous…" And so, Dylan Jones, huge of footprint, shiny of pate, bestrides the men's magazines world — diminished as it is — like a colossus with a clothes budget that would make Cleopatra feel she was somewhat letting the side down.
I have been fascinated with magazines since I was a small boy. It began with the Beano, moved on to an official Thunderbirds magazine, then to 2000AD and every music and men's magazine in print, including the reliably salacious Sky Magazine. The latter got me bollocked by my dad, when he discovered an illustration inside of two Action Men with enormous throbbing cocks.
I didn't realise that Sky was preparing me for a career in the media in which people who act like enormous cocks are pretty much the norm. Now you know why this series is called The Burning Bridges Letters. Fetch me my kerosene. Fetch me the matches.
And so… onto Dylan Jones, who I have never met — despite sneaking one of two pieces onto GQ's website — but whom I have watched and studied for years. That makes me sound like a stalker, but my watching has been confined to reading interviews with him and consuming the magazines he has helmed.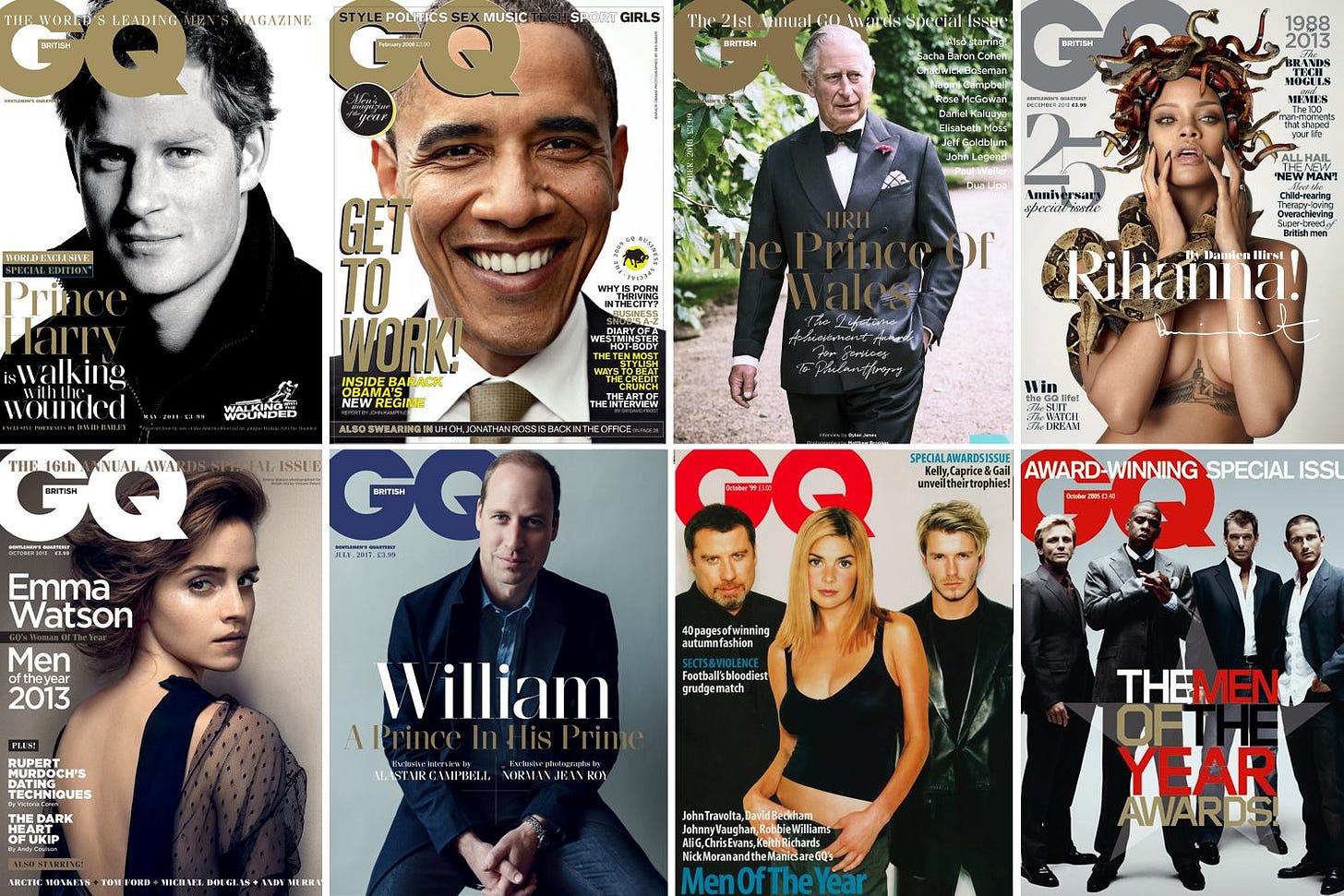 Dylan Jones has been the editor of British GQ since 1999 when I was 15. I have read the magazine on and off since about then, oscillating between fascinated and repulsed. Jone is clearly a magazine genius in many ways. Certainly, he has been in the business for so long that his footprints are all over the way men's magazines came to look and have evolved into the most gentle and conscious era that they are in now.
But I find Jones to be 'problematic' as the kids say — who they? — for a number of reasons: Though he has hired a larger stable of writers that includes people of colour and women in this new age of GQ, he began his tenure there by bringing in a dream team of abject bastards, from Will Self to A.A. Gill to Dominic bloody Lawson.
Jones made Boris Johnson the title's motoring correspondent, a job that the now Prime Minister treated with the same care and attention he has applied to protecting care home residents during the pandemic. He made ham-faced globule of privilege and contempt David 'Pig's Head' Cameron a cover star, soon after he became leader of the Conservative Party, elevating his standing in the process.
Jones has so many awards his downstairs toilet must look like the den of a fence trying to shift industrial quantities of cheap bronze and perspex. He has won the BSME Men's Editor of the Year Award six times, been recognised for the vomit-worthy honour of 'Brand Building Initiative of the Year' for the annual drinking binge and Tory politician endorsement jamboree know as the GQ Men of the Year Awards, and received a lifetime achievement gong in 2012 for his career in journalism.
In an interview with the Always Take Notes podcast, Jones talks endlessly about 'brands' and almost dismissively talks about how easy his path through the industry has been. He was offered a job on a magazine unexpectedly and has glided his way up the chain like a channel swimmer caked in lard.
Jones namedrops like a man with pockets full of other people's business cards. He has the easy entitlement of a man who has realised he is born to rule and will continue ruling for as long as he likes. Conde Nast sees him as the golden goose that shits the lovely golden brand partnership eggs.
Jones says in the same Always Take Notes interview that he's not a naturally good writer, but has learned to be. It's hard to be rude about that; that's self-awareness. But it is frustrating that he spends so much time putting his own words in the magazine. That's cheating really.
When I spent time as a section editor, I wrote less because I was commissioning people and editing their work. That was my job — helping other people make their work better. And while I got my name on the masthead, I got no external credit for the way I improved and reshaped those features. That's life in the NFL.
Dylan Jones has used and continues to use GQ as a platform for his own ego and stardom. He'd deny that, but the receipts are in the print.
Here's how Jones explains, in the Always Take Notes interview, his proposal to become editor of GQ:
"My pitch was A.A. Gill directs a porn film … he was at the time, the best, most famous, probably most expensive journalist in Britain … when I got the job I had to make this thing happen, so I rang him up and said, this is what I want you to do: I want you to write and direct a hardcore porn film … I thought that would be a funny thing to do."
Look at how he outlines his thinking. He wanted Gill for three reasons, one that is understandable (the quality of his writing) and two that are unbearably smug and Conde Nast standard practice ('the most famous' 'the most expensive'). And that quote, every word and insinuation in that quote, is why I don't like Dylan Jones. It's an amuse-bouche of awfulness, 76 words that say it all.
"Writers never have any ideas," he says grandly in the podcast interview. "They literally never have ideas." Perhaps the fucker just hired the wrong writers, said this writer with ideas who has crawled up the Death Wall of GQ with bloody fingernails just to get a few articles published online.