GNU to Q: When a great magazine dies
Too old to live. Too young to die.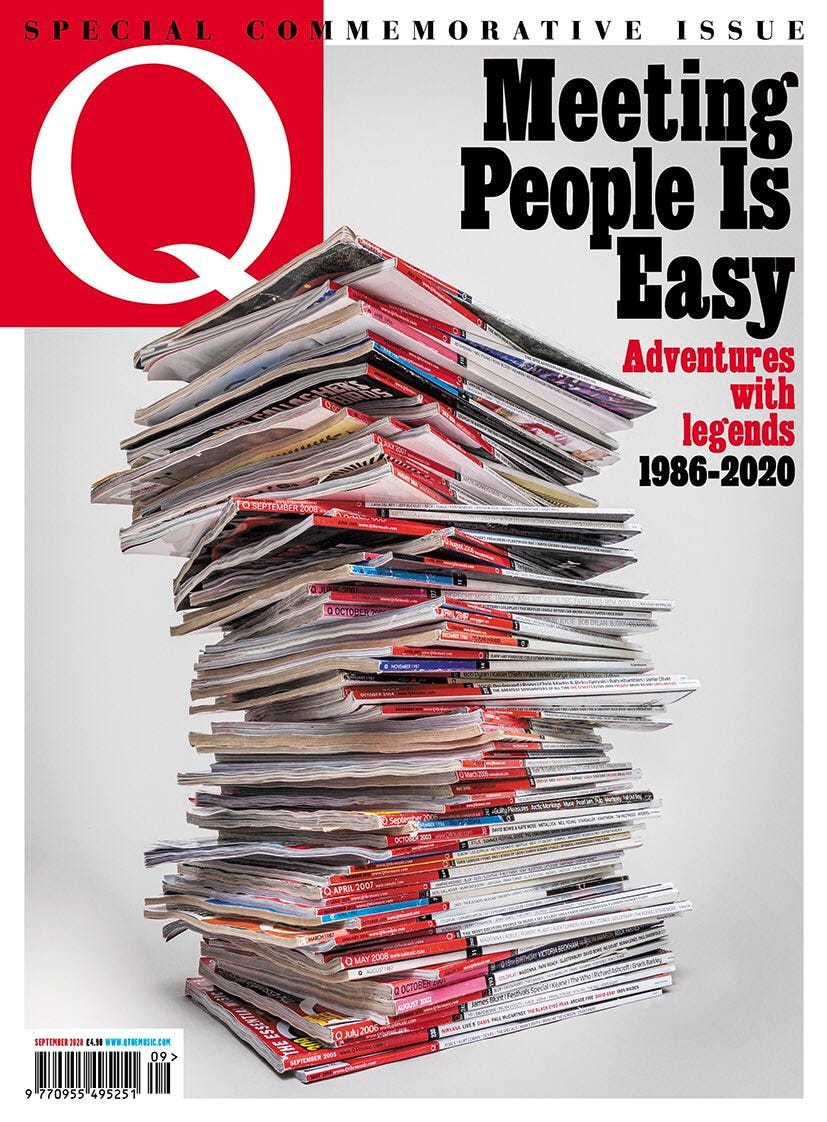 In the 33rd of Terry Pratchett's Discworld novels, Going Postal, he writes about an internet-like communication system called The Clacks, which pass messages from tower to tower. John Dearheart, the son of the man who invents The Clacks, is murdered. A piece of code — GNU John Dearheart — is written to remember him and it echoes up and down the Clacks lines.
G means pass the message on. N means not logged. U means the messages should be turned around and sent again when it reaches the end of the line. This creates a loop where John Dearheart's name is repeated indefinitely and infinitely throughout the system. His name becomes part of the system. Pratchett being Pratchett GNU is also a reference to a real-world thing — GNU is a free OS with a recursive name. GNU stands for "GNU's not Unix."
Since Terry Pratchett's death, 'GNU Terry Pratchett' has often been shared online, in keeping with the line he wrote in Going Postal: "A man is not dead while his name is still spoken."
Q Magazine — where I spent 9 turbulent months in the midst of a huge but ill-fated redesign project — is not quite dead yet. But it has printed its final flexidisc of a sort — a double A-side — (in the words of Ted Kessler) — made up of an issue of reminiscences from some of its greatest writers (published earlier this month) and an issue to come on 28 July which digs in the archives for some incredible pieces.
Like John Dearheart, Q has died an untimely death. It was pushed off the tower by a combination of Coronavirus and the callousness of its publisher, Bauer, a company of renowned ruthlessness, which simply could not keep its foot on the brake long enough to allow a buyer to be found to take over the Q brand and assets. It is a crying shame.
Mean-spirited, ugly-minded creatures of spite on the internet have laughed at the demise of a magazine for lumpen centrists. What they are attacking is a popular misconception of Q, driven by a memory of it in the dark days of 2000 - 2009, when lists dominated its cover sells and feature sections.
The final era of Q, which stretches from the installation of Ted Kessler as acting- and then permanent editor, has been a second imperial patch for a magazine that was founded by Mark Ellen and David Hepworth in the misty past of 1986 when CDs were a novelty and music magazines were something you launched rather than shuttered.
Under Ted, Q has been exciting and energised, putting diverse acts on its cover and diverse writers in its pages. It has had the fearlessness of a person facing death every day, full of the wild insouciance of the rebel marked for a bullet.
Too old to live, too young to die.
When a fellow music journalist's wife died horrifyingly young recently, he asked that people listen to some of her favourite songs. I picked Kate and Anna McGarrigle's version of The Swimming Song:
This summer I went swimming
This summer I might have drowned
But I held my breath and I kicked my feet
And I moved my arms around
I moved my arms around

This summer I swam in the ocean
And I swam in a swimming pool
Salt my wounds, chlorine my eyes
I'm a self-destructive fool
I'm a self-destructive fool
I was 24 years old — "a self-destructive fool" — when I became the section editor of Q's front third — a kind of news and small features tsar; I was too young and just young enough. People made it clear that I was not the right choice for the job on day one in the office, as my excitement was still pinging around my system like amphetamines ("The Q logo is on the door! We work near Kerrang! I have my own desk! You can put records on the stereo and be judged! I get to commission Johnny Cigarettes to write things!). I'm playing The Swimming Song for Q.
I managed for 9 months. I see it as a tour of duty. I took incoming fire daily. I learned a lot. I got the badge that reads FUCKUP MUSIC JOURNALIST. I polish my medals. I check my scars. I wish the Battleship Q was not being scuttled on the shores of shit economic realities and executive indifference. I wanted another chance to stand on the deck, another chance to fire its guns, to wrestle on the floor of the mess with someone who believed that Johnny Borell was a genius.
GNU Q. I'll miss you x