Do you know Larry Flynt? Laurence Fox is not a free speech martyr
Tales of my favourite pornographer; a true American hero
"You're one of those people who has become almost a martyr for free speech…" — Steven Edgington, The Sun, Burning Questions: Lawrence Fox
The phrase 'free speech martyr' gets bandied about quite a lot on the political right, as an extension of their obsession with 'cancel culture' as a strategy to present themselves as victims despite having most of the media and the levers of state power. While right-wing commentators struggle to actually provide many concrete examples of truly 'cancelled' individuals, they'll still bestow chocolate medals on figures who they believe have been shunned — seemingly by turning up on every possible political talk show — for 'wrongthink'.
The actor Laurence Fox has developed a nice little sideline in complaining about being silenced on a wide range of right-wing podcasts. One of his latest outings was on The Sun's curious video podcast, Burning Questions, where the host Steven Edginton was in awe of Fox's ability to have opinions on everything while knowing about virtually nothing. To say Edginton was starry-eyed about his Zoom encounter with Fox would be an understatement; his first question may as well have been, "Why are you so great? And, follow-up, can I be your bestest fwend?"
I'm not going to relitigate the idiocy around Fox as it's well-trodden at this point. Instead, I want to write about a true free speech pioneer, who has suffered for the principle of free speech and put his money where his massive mouth is — Larry Flynt, pornographer, political activist, and true free speech radical.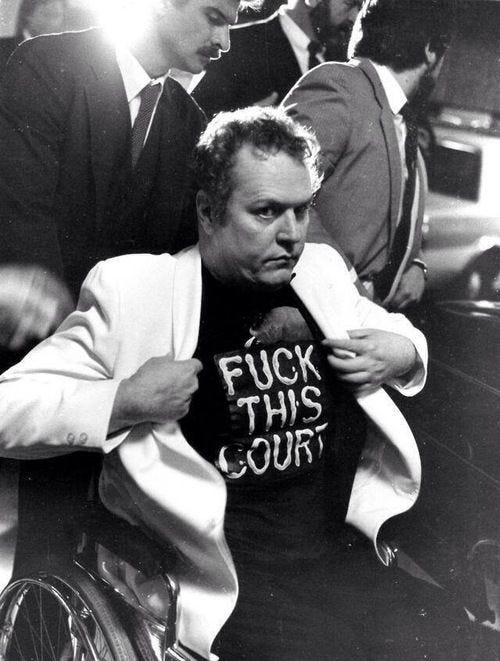 Flynt was born in Kentucky, the first of his parents' three children. He was raised by his mother and maternal grandmother until he was three, as his father was away fighting in World War II. His sister Judy, died of leukaemia aged 4, and prompted his parents' divorce. For a while, Flynt lived with his mother and brother, Jimmy, but soon returned to his father because he despised his mother's new boyfriend.
Flynt ran away aged 15 and joined the US Army using a fake birth certificate. He was honourably discharged and returned home to Indiana to live with his mother again, taking a job with Inland Manufacturing, a General Motors affiliate. He was soon redundant after a union-led showdown and headed back to his father in Kentucky, where he became a bootlegger. He stopped that when he got word that the Law was looking for him. He joined the Navy in July 1960 and became a radar operator on the USS Enterprise, which later recovered John Glenn's space capsule. Flynt was on duty during that mission. He left the Navy in 1964 with an honourable discharge.
In the meantime, his mother had started a bar in Dayton, Ohio. Flynt used his savings to buy it from her and refitted it. He was soon bringing in $1,000 a week and used his profits to buy to more bars. Fuelled by amphetamines, he often worked up to 20 hours a day, making him a somewhat unhinged proprietor, frequently wading in to break up fistfights between drunks.
Tired of the down-at-heel venues, Flynt decided to… open a bar with nude dancers. He called it the Hustler Club. From 1968, he collaborated with Jimmy — and later his girlfriend Althea Leasure — to establish a string of Hustler Clubs in Cleveland, Cincinnati, and Ohio. In 1972, he created Hustler Newsletter, a two-page, black and white grot sheet, to promote the clubs. It became so popular that he kept expanding and expanding the page count.
In July 1974, Hustler became a nationally distributed adult magazine, with the first real edition hitting newsstands. The first few issues were minor successes, but within a year the magazine was highly lucrative for Flynt and allowed him to pay tax debts he'd accrued during the previous recession. In November 1974, Hustler went more explicit with what were indelicately called 'pink shots' — photos of women opening their legs in a very explicit manner. The introduction of this stronger material meant Flynt had to fight to publish every issue.
A major break for Hustler came when a paparazzo approached him with long-lens images of the former First Lady Jacqueline Kennedy Onassis sunbathing nude. Flynt instantly purchased them for $18,000 and published them in the August 1975 issue of Hustler. It sold 1 million copies in days. An almost instant millionaire, Flynt bought a mansion.
Flynt's commitment to publishing unmediated nudity and raw pornography is what turned him into a free speech fighter. In 1976, he was prosecuted on obscenity and organised crime charges by Simon Leis, the head of a local anti-pornography committee. Flynt was sentenced to up to 25 years in prison but only served 6 days in jail. The sentence was overturned after allegations of prosecutorial misconduct, as well as judicial and jury bias. Arguments resulting from the case ended up being discussed at the Supreme Court. In Milos Foreman's Flynt biopic The People vs. Larry Flynt, Flynt himself plays the judge who sentences him to jail time.
While facing a case about an alleged 'offensive' cartoon in Hustler (Keeton v. Hustler Magazine), Flynt shouted, "Fuck this court!' and called the judges sitting on the case, "nothing but eight assholes and a token cunt." Chief Justice Warren E Burger had him arrested for contempt of court, but the charge was later dropped.
In 1983, Flynt gained possession of and leaked an FBI surveillance tape which revealed that agents had threatened to smash John DeLorean's daughters head in if DeLorean dared to defend himself in court. The subsequent trial over the publication of the tape saw Flynt wearing an American flag as a diaper. He was jailed for six months for flag desecration, one of America's silliest crimes.
In 1988, Flynt fought one of his most famous battles, going all the way to the Supreme Court to defeat the pompous bag of wind that was Reverend Jerry Falwell. In 1983, Hustler had run an ad parody that suggested Falwell's first sexual encounter was with his mother in an out-house. Falwell sued, citing emotional distress.
The Supreme Court decision decided that public figures cannot recover damages for "intentional infliction of emotional distress" based on parodies. After Falwell's death, Flynt said despite their differences, he and Falwell had become friends over the years, adding:
"I always appreciated his sincerity even though I knew what he was selling and he knew what I was selling."
In April 1998, Flynt was charged with obscenity again, after the sale of sex videos to a youth in a Cincinnati adult store he owned. It was a setup. A plea agreement in 1999, saw LFP, Inc. (Flynt's corporate holdings company) plead guilty to two counts of pandering obscenity and agree to stop selling adult videos in Cincinnati.
Then, in June 2003, prosecutors in Ohio attempted to revive criminal charges of pandering obscene material against Flynt and his brother, Jimmy, claiming that they had violated the 1999 agreement. Flynt said that he no longer had an interest in the Hustler Shops and that prosecutors had no basis for the lawsuit.
Flynt has time and again put himself out there to expose hypocritical politicians.
During the impeachment proceedings against President Clinton in 1998, Flynt offered $1 million for evidence of Republican sexual impropriety and published the results in his newsletter The Flynt Report. These publications led to the resignation of incoming House Speaker Bob Livingston. In 2007, Flynt repeated his $1 million offer and also wrote the foreword to Joseph Minton Amann and Tom Breuer's The Brotherhood of Disappearing Pants: A Field Guide to Conservative Sex Scandals.
In 2003, Flynt purchased nude photographs of Private Jessica Lynch, who was captured by Iraqi forces, rescued from an Iraqi hospital by US troops and celebrated as a hero by the media. He said he would never show any of the photographs, calling Lynch a "good kid" who became "a pawn for the government". Flynt has supported activist groups opposed to the Iraq War in 2004 and 2005 and is a supporter of LGBT rights and same-sex marriage.
Flynt has not made his stands without personal pain and loss. On March 6, 1978, during his first obscenity battle, he was walking to the courthouse in Gwinnett County, Georgia, when they were shot by a gunman standing in an alley across the street. Flynt was partially paralysed with permanent spinal cord damage. He needs a wheelchair and suffered excruciating pain, which, in turn, led to painkiller addiction, until multiple surgeries finally deadened the pain coming from affected nerves. Flynt also suffered a stroke after an overdose on pain meds.
Joseph Paul Franklin, a white supremacist and serial killer, confessed to the attack on Flynt many years later. He claimed his motivation was anger at an interracial photo shoot in Hustler. Flynt says he believed Franklin, who was eventually charged in Missouri for eight murders and sentenced to death. Flynt opposed the death penalty and publicly stated he did not want Franklin to be executed. Franklin was killed with a lethal injection in November 2013.
Flynt has been married five times. He has four daughters and a son.
Larry Flynt is far from perfect. He's a blowhard, a showoff, and an exploiter in many ways. But American speech is better for his existence. Despite his wealth and the privilege he has attained, he has suffered during his battles, not just from the assassination attempt, but also losing his fourth wife Althea to drug addiction and AIDs at the age of just 33. He is a free speech warrior. Lawrence Fox is just a gobshite.
"Majority rule will only work if you're considering individual rights. You can't have five wolves and one sheep vote on what they want to have for supper."
— Larry Flynt speaking to Carol Lloyd for 'Flynt's Revenge' (Salon, 1999)